Campus ERP Solution is an educational institution-based administrative system which standardizes and automates the collection and reporting of data for all students in campus. It provides for automated entry and reporting of student biographical data; on-line admissions, discharges, and transfers; attendance; grade promotion; pupil transportation and exam processing; and many other functions. In addition, it has an institution-based management component that supplies aggregate student data, human resources data, and purchasing information for use by school administrators and school-based management committees.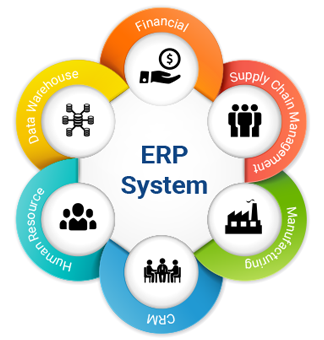 Every department is seamlessly connected for better information sharing & fast retrieval of information to help in prompt decision making by the management. Campus ERP is a user-friendly platform which not only allows a smooth flow of information, but also networking within the organization. Industry Standards: Our Campus ERP suite is fully compliant with all existing affiliating board directives. The system allows users to quickly produce reports conforming to the board formats. The suite is very user Friendly: Screens are self-explanatory and data flow is evident. Any new user can quickly learn to use this versatile software. We also provide a detailed user manual for quick reference. It is easily customizable: The requirements and work process will differ with each school and our solution offers limitless customization to suite your every need. It offers highly secure data management and retrieval. Data can only be accessed by authorized personnel using a unique id and encrypted password.
It is affordable and offers one of the lowest Total Cost of Ownership (TCO) and highest Return on Investment (ROI) for enterprise software in the education sector. Our solutions and services are always reasonable for campuses big and small alike.Graphical and custom reports are generated in multiple formats like adobe PDF and Microsoft Excel. Reports can also be sent directly to the printer. Graphical representation of reports can be generated for easy understanding and comparison. Institutions can also request for customized reports to be generated. It is 100% scalable: to match the level of growth of the school, and grow to aptly support it in number of installations and product features. We offers 24/7 customer support to its clients. An expert team of professionals are always on call to solve all your problems as they arise. Our team of experienced and professionally trained group of employees is committed to delivering time-bound and precise IT solutions to address the needs of the customers. We offer installation, support, customization, implementation, integration, hosting and training services. It is an end-to–end solution to all your school administration problems.