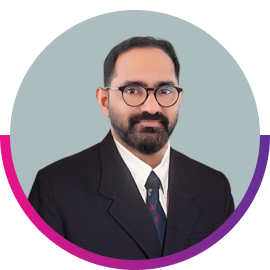 Saji Chameli
Executive Chairman & CEO
Saji Varghese Chameli is the Executive Chairman & CEO of Oréll Group of Companies (Orell Technosystems (India) Pvt Ltd, Orell Software Solutions Pvt. Ltd., Orell, Inc & Orell FZC - UAE) and is responsible for the day-to-day global operations and vision of Oréll's traffic monetization business. With over 22 years of hands-on experience in the IT industry, he brings a unique blend of professional competence and skillful entrepreneurial efficacy in leading Oréll. He holds a Bachelor's degree in Physics, Degree in Education and a Master's in Business Management from Mahatma Gandhi University.
A pioneering e-Marketing wizard, Saji was the Technical Director from 2000 to 2007 at an EdTech company, where he focused on product development and digital marketing.
Oréll was founded in 2007 by Saji, along with three like-minded professionals with extensive expertise in delivering innovative IT solutions for institutions of learning. Instrumental in forging strategic partnerships both within the country and abroad, he is most admired for his mature thinking, level-headedness as well as his eagerness to offer support and/or lend a helping-hand to anyone in need.
---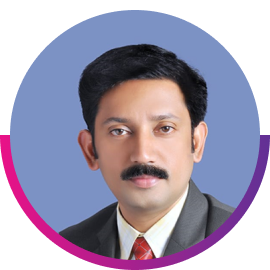 Dr. K.J. Vargheese

M.A, B.ED, PH.D. (PGDJ, PGDELT)
Chief Coach & Head - Course Development
Dr. K.J Vargheese is a renowned innovative Educationalist from India, who is researching on implementation of advanced technologies in the fields of language education. Dr KJV is a globally preferred invited speaker on ICT (Information and Communication Technology) in English education with 25 years of rich experience and a faculty of the Christ College. Dr K.J Vargheese is the Chief Coach & Head of Course Development at Orell.
EDUCATIONAL QUALIFICATIONS
M.A. English, B. Ed.
Ph. D. in English Language Teaching (ELT) through Information Communication Technology (ICT)
P.G. Diploma in Journalism
P.G. Diploma in English Language Teaching (ELT).
TEACHING EXPERIENCE : 24 years
Chairman, Board of Studies in Functional English, University of Calicut.
Doctoral Committee member of VIT University, and Sree Sankaracharya University of Sanskrit.
Chairman, PG Board of Studies in English language and literature, Christ College (Autonomous)
Member, Board of Studies, Community college, St.Marys College,Thrissur
Member, Faculty of Languages, University of Languages
Member, PG Board of Studies, English language and literature, St. Joseph's College, Irinjalakuda
Visiting Faculty of Regional Institute of English, South India, Bangalore, State Institute of English, Thrissur, Regional Institute of Education, Mysore and Christ University Nodal Center, Thiruvananthapuram
Secretary of English Language Teachers' Association of India (ELTAI) Thrissur Chapter, Member of IndiaCALL
---