eLearning software such as digital language labs, digital libraries, online exams not only help make the process of learning enjoyable and fun but also interactive, effective and long-lasting. All students are indeed quick digital learners. eLearning opens the virtual door to a high quality education. With eLearning, teachers can provide one-on-one instruction and mentoring to many students across the nation. Artificially limiting class size, prescribing teacher-student ratios or restricting a teacher's ability to serve students at multiple schools ignores the freedom and flexibility that comes with eLearning. eLearning-SolutionsRequiring students to take a high quality college prep online course ensures students are better prepared to succeed in life after graduation in the digital age. A robust offering of digital content and online courses expands options and ensures students acquire knowledge and gain skills from the experience of digital learning.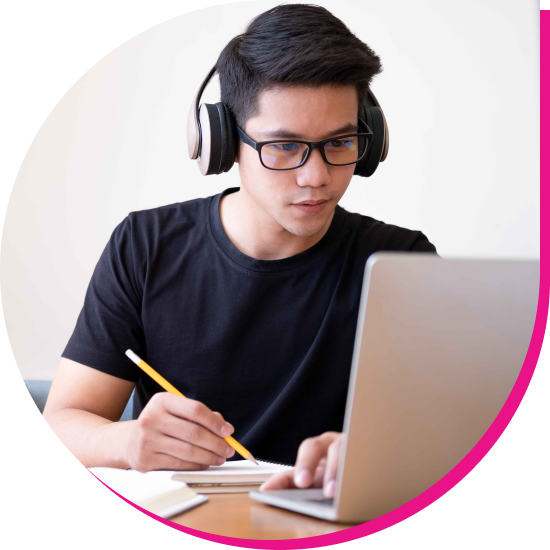 In today's world, learning doesn't have to start when a student enters the classroom and end when the school bell rings. Students can access eLearning virtually whenever and wherever they are – both physically and figuratively. With personalized learning, students can spend as little or as much time as they need to master the material. Self-paced programs mean high achieving students won't get bored and can accelerate academically, while struggling students can get additional time and tutoring to gain competency and the confidence that comes with it. eLearning can extend the school day or school year and connect students with community resources with little or no additional cost. Flexible scheduling allows students to take full advantage of their peak learning times to complete lessons. Best of all, students can experience blended learning. Students can learn in an online or computer-based environment part of the day and in traditional classroom, even one-on-one tutoring, for part of the day – essentially the best of both worlds combined into one education.
eLearning offers the potential for students to study at their own pace and advance based upon competency and mastery of the material — it is student-centered, not school-centered.In this environment, seat time requirements and the all-too-common practice of social promotion become obsolete. A student will spend as much time as necessary to gain competency. Additionally, eLearning adapts to situations where a student is ahead in one subject and behind in another. Making high stakes assessments, which are used to trigger progression, available when students are ready will accelerate student learning. The dynamic nature of digital content and its varied uses requires a fresh and innovative approach to ensuring high quality content. Like print content, digital content should be aligned to state academic standards or common core standards for what students are expected to learn. However, digital content should not be held to higher standard than print content. Freedom for interactive engagement that results in higher student retention and achievement should be encouraged. Transitioning to digital content will improve the quality of content, while likely saving money in production that can be dedicated to providing the infrastructure for eLearning.Administering tests digitally has multiple benefits. Tests can be administered and scored quickly and efficiently. Computerized scoring provides the opportunity for a cost effective method to create better tests beyond multiple choice, including simulations and constructed responses. Getting the result of tests faster can improve instruction as well as expedite rewards and consequences, which can strengthen accountability for learning. Learning management systems, digital curriculum, and online summative and formative assessments have the distinctive capability of collecting real-time data on the progress of each student against learning objectives. Instant feedback for students and personalized analytics for teachers provide the support for continuous improvement and competency-based progress.